Age UK- Men in Sheds Campaign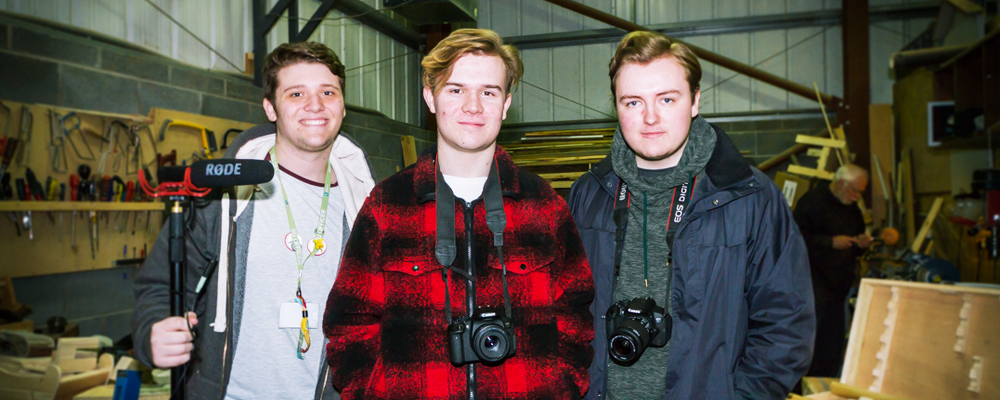 Heart of Worcestershire College's (HoW College) students, "shed" a light on an amazing cause during their work experience with AgeUK Bromsgrove, Redditch and Wyre Forest (BRWF).
TV and Media students, Liam Collett, Ethan Harper, Chelsea Price and Patrick Whinder-Montague filmed and edited two short videos to promote the excellent work of the Bromsgrove Men in Sheds Group. The campaign will be displayed on the organisation's website and social media pages to promote and raise awareness of the scheme.
The Bromsgrove Men in Sheds Group has been operating since 2016, providing a supportive and friendly setting where anybody can socialise and learn new skills. The group aims to tackle loneliness and social isolation in older people, where retirement can mean loss of status and contact.
To help raise funds, to ensure the continuation of this much valued group, the charity is launching an annual 'Shed Share' sponsorship scheme. For £100, local businesses/ groups/ individuals can sponsor a 'Shed Share' for a year.
Talking about the project, Kate Hutchings, Work Placement Officer - The Arts, at the College said:
"This initiative has provided our students with valuable, real-life, work experience while at the same time, ensuring the men have the opportunity to tell their local communities about the positive impact that being involved in the Bromsgrove Men in Sheds has had on their lives."
More and more employers are looking for experience as well as academic credentials. A work placement gives students the opportunity to gain valuable experience spending time working for an employer and carrying out duties or tasks as any other employee of the company would. HoW College has excellent links with local employers and encourages all students to undertake a work placement alongside their study.
For more information about the annual Shed Share sponsorship scheme and how you can support Bromsgrove Men In Sheds, please contact Jo Hughes on 01527 868855 or email jo.hughes@ageukbrwf.org.uk.