CIPD Student of the Year Awards 2019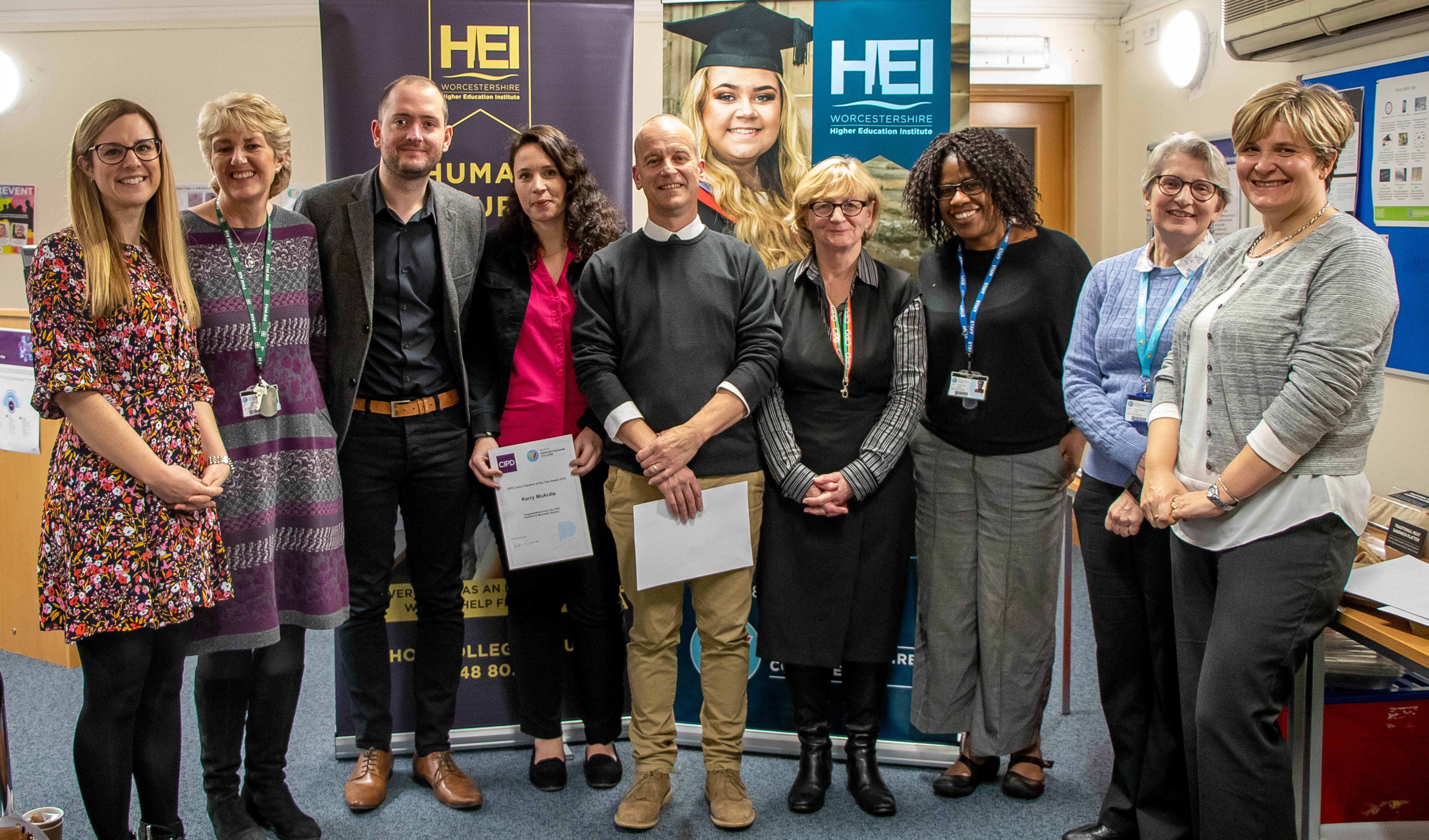 Heart of Worcestershire College (HoW College) held the annual Chartered Institute of Personnel and Development (CIPD) student of the Year Awards in November 2019 which celebrated students who had shown determination, high levels of engagement in their learning and a will to succeed while studying a professional qualification.
The prize winners included Lindsay Wood for the Level 7 Advanced Diploma in HRM, Ashley Bennett and Kerry McArdle for the Level 5 Certificate in HR Management at Worcester and Redditch, plus Dave Knatt and Abigail Mills for the Level 3 Certificate in HR Practice at Worcester and Redditch.
Students are nominated for each qualification level by the teaching teams against a number of criteria including commitment to the course, quality of work, engagement with their learning, and progress for the duration of the course. The prizes are sponsored by the CIPD and were presented to the students by Gill Slater, the Chair of Hereford and Worcester CIPD branch.
Talking about the course, prize winner, Ashley Bennett, commented:
"Since starting the course I have enjoyed every single moment and my passion for HR has only grown."
HR Officer for West Mercia and Warwickshire Police, Lindsay Wood, favourably said:
"The knowledge I have gained is of a more strategic level, it gives me confidence and a greater insight into what can be achieved working in HR and the impact on a business that effective HR can have."
As well as praising the courses, the students also praised the tutors at HoW College. Kerry McArdle who works within the HR team at Enterprise Rent-A-Car, said:
"'I feel the hard work and support of my tutors helped me achieve my Level 5."
Similarly, Dave Knatt stated:
"The biggest challenge for me was meeting the deadlines for each unit – but all of the tutors were extremely accommodating, providing me with encouragement, feedback and support when I needed it."
Finally, Abigail Mills added:
"I had a good experience during my time studying and it was great to get back into learning and remembering how to complete assignments since leaving school in 2012. I had a good relationship with my tutors who were both professional, approachable and supportive."
Helen Bessant CRQ Leader for Management & Professional Studies at the College, in her introductions, said:
"As a College we are held in high regard by the CIPD and always have particularly high success rates, which includes an exam pass rate which is consistently above the national average, it is therefore a wonderful opportunity to celebrate this success at such an event."
For more information about the CIPD courses available at HoW College please click here