Car Parking
The College car parks at Bromsgrove and Redditch are managed for the College by Parking Eye Limited.  Staff, students, contractors and visitors to the College are able to park in the car parks free of charge, by registering on the staff or student portal, or by registering on the devices located in the Reception areas. 
Members of the public are able to use the car parks on a chargeable basis.  A payment by phone / app facility is in operation and there are several signs in and around the car parks that detail the charges. There is no facility to pay by cash for parking. The cameras in the car parks record the time of entry to the car park and the time of departure.
College staff are unable to assist with parking charge queries or appeals on behalf of members of the public and cannot contact Parking Eye Limited directly.
Members of the public should visit the Parking Eye Limited website and appeal online - visit https://www.parkingeye.co.uk/motorist/knowledge-hub/frequently-asked-questions/page/2/
or use the address on the Parking Eye website to submit an appeal by post.
Our Peakman Campus in Redditch is the location for our Archers Restaurant and Fusion Hair Salon.  Visitors to these facilities can park for free by registering on the devices in the Reception areas upon arrival.   Visitors may park in the College Car Parks 1,3 and 4 as shown on the image below.  The car park in the yellow box is not a College car park, it is a public pay and display car park and the College is not responsible for any charges incurred by visitors vehicles parked in there.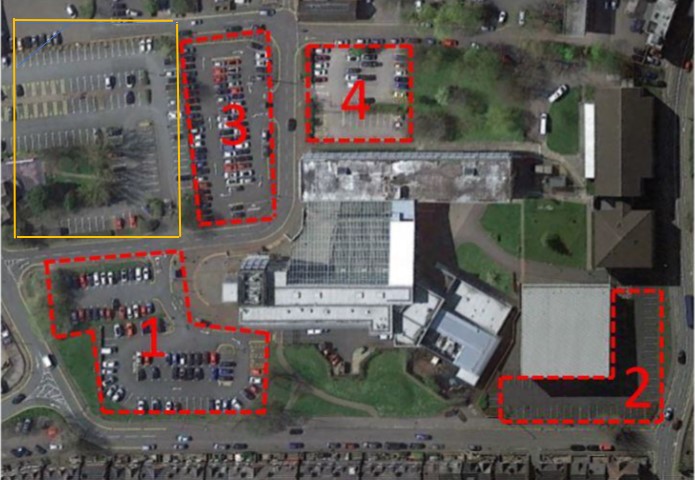 For HoW College students looking to register their vehicle at either our Bromsgrove or Redditch campus, there is a short video available here that shows the simple registration process step by step. More information is also available under the Student Life > Free Car Parking tab.