Latest News
HoW College Students Are Passionate About Work Experience
17 November 2021

Heart of Worcestershire College (HoW College) media make-up students rise to the challenge, as they work with a local theatre production to help promote the forthcoming Wintershall Passion Play, in Worcester.
Level 3 Theatrical & Media Make-up students, Amy Ford and Amelia Weetman, put the skills they had learnt at College into practice, as they created a special effects look on Oliver Ward, the actor playing Jesus, as part of a photoshoot that is being used to create promotional materials for an upcoming play.
The Wintershall Passion Play is part of a bigger project, where a number of cities and towns will put on the same re-enactment performance on Good Friday -15th April 2022. The famous Wintershall Passion play has been performed in Trafalgar Square London on Good Friday since 2010.
Talking about this work experience opportunity, student, Amelia Weetman said:
"Creating the Jesus make-up was a great experience and it was something new to do. I really enjoyed doing the make-up. The actor was a joy to work with and it's amazing to see my work out there."
This work experience opportunity came about when the Director of the play, Tim Crow, contacted the College to ask if any of the media make-up students would be available to create a special effect look for a promotional photoshoot. Amy and Amelia volunteered and met with Tim and Oliver on the day of the photoshoot ready to perform their skillset.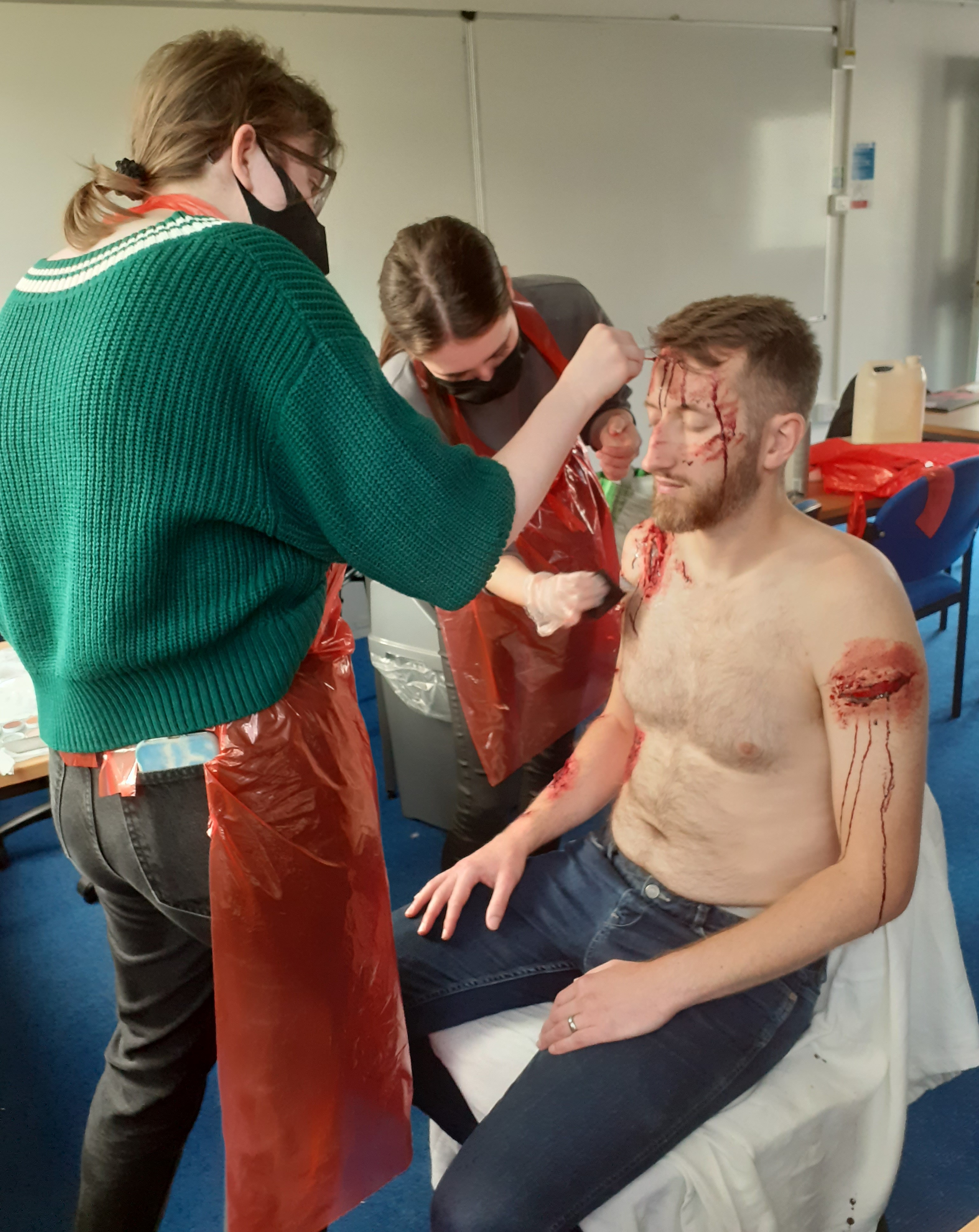 Crediting the students, Director Tim Crow said:
"Amelia and Amy did an excellent job of making up the actor playing Jesus in the Passion Play for us. They were very well-prepared despite short notice, very amenable and efficient. They completed the challenging task in the limited time available and with great skill."
This isn't the first time that Amy and Amelia have jumped at the chance of work experience opportunities. Despite only being on the course for a few weeks, both students also volunteered to do special effects make-up for the Hereford & Worcester Fire and Rescue Service's 'Dying2Drive' and 'Watership Down' rescue simulations.
HoW College's Work Experience and Job Coach, Kate Hutchings praised the students saying:
"Once again Amelia and Amy have stepped up to the challenge and produced make-up effects of a very high standard. It is always a pleasure to spend time in their company and to see them grow in confidence with each work experience opportunity.
They are truly exceptional young women and I predict a great future ahead of them."
Adding to her fellow student's comments, Amy Ford said:
"I really enjoyed doing the Jesus work experience. The actor was great to work with and I feel like it's given me more confidence to do other work experiences like this."
HoW College works with a number of local employers and is proud to offer all Level 3 students the opportunity to complete work experience. These opportunities allow students to further their industry skills and can be a great foot in the door to a future career.
(Photo Credit: Tim Crow)