Richard Cook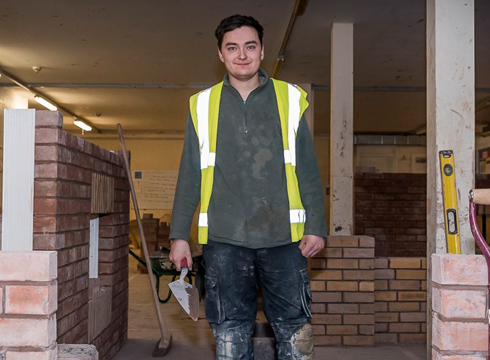 Current job:
Apprentice Bricklayer at Stepnell Ltd.
Why did you choose an apprenticeship?
I wanted to become a bricklayer and after looking through and carefully considering all of my options I decided to come to Heart of Worcestershire College and gained my apprenticeship in bricklaying from this.I wanted to become a bricklayer, I had looked at the options available to me, going to college, trying to get a job with some bricklayers or the apprenticeship. After careful consideration and looking through I decided to go to college where I was noticed and then gained an apprenticeship.
What do you enjoy most about the apprenticeship?
I enjoy being out on the building site, learning first-hand how to lay bricks and blocks most about my apprenticeship. Being out on site is completely different from the college environment; you develop skills like problem solving and how best to resolve situations.
I enjoy being out on site learning how to lay bricks and blocks. Site is a completely different environment to college where things don't always work so you have to problem solve on the spot to figure out how or why it is not working and then decide the best ways to resolve things.
How will the apprenticeship help you in your future career?
My apprenticeship has helped me gain great transferable experience and knowledge for my future career but also skills for outside of work. I have developed my confidence which has been noticed in my work but also in my personal life too.
The apprenticeship has helped me gain experience and knowledge which is transferable. I have gained confidence at work which has been noticed in my home life. The apprenticeship does not just set you up for your future career but also out of work
Would you recommend an apprenticeship to other learners? If so why?
Yes, the apprenticeship helps you learn and gain vital experience in the industry. A lot of places ask for experience before you even apply for a job which you cannot get unless you are out on site.
What advice would you give to students following in your footsteps?
My advice would be that if you really are considering taking on an apprenticeship you have to take it seriously. Whilst you are being paid to learn you also have the responsibility to get your work done to a high standard. You are treated like an adult and everything you gain from an apprenticeship definitely makes it worthwhile.
If you are going to undertake an apprenticeship, take it seriously. You are being paid to learn but you will have responsibilities to get the work done. You are not just a college kid who's not in the classroom but a person who is earning a wage.